Famous People who wear cotton clothes
2nd Mar 2022
There are many famous people that are and have worn cotton clothes in the present and the past.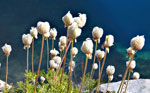 What should be noted is that polyester was not invested until 1929. Before that time, everyone in the world, who was famous and not famous, wore cotton clothes to some extent. Yes there were wool clothes and clothes made of animal skins still, but no one wore them as under garments.
Cotton fabric has been made into clothes for the past 7,000 years. In that time humans have appreciated it's comfort and durability. In the past many did wear wool, but for a level of comfort, cotton cloths were worn under them in the cold winter periods. In the summers of the past and today, cotton is the preferred fabric. It breaths, prevents chaffing and rashes while removing the perspiration from the skin for an added level of comfort to the wearer.
Most military uniforms in the past and present are made of cotton. While this does not necessarily include all of the dress uniforms, the ones worn on a daily basis and in combat were cotton. It is highly undesirable and deadly to become distracted by itching and rashes while a person is in a life or death situation. For this reason all of the founding fathers of America had worn cotton clothes including George Washington.
As for famous people of today that wear or require others to wear 100% cotton cloths are many. In 2012 Kanye West made a demand of that his chauffer only wear 100% cotton clothes when driving him around in Australia.
For those that like tight fitting 100% cotton dresses like the one Carol Vorderman wore to the show - Celebrity Juice in 2013, it is fashionable.
Threads for Thought is a designer of cloths for celebrities that only uses 100% organic cotton. Celebrities and famous people that wear this line of clothing include Paris Hilton, John Norris, Jamie Fox and Don Cheadle.
Another famous designer that only uses 100% organic cotton is Battalion. Famous people that love to wear their clothing items include Maggie Gyllenhall, Julie Deply, Angela Lindvall, Tatyana Ali and Ashley Olsen.
The softness and comfort of the T-shirt will never be forgotten. Today one of the many fashion trends among celebrities is the branded t-shirt. The famous people that are wearing them include Agyness Deyn, Audrina Patridge, Avril Lavigne, Mischa Barton, Taylor Momsen, Kristin Stewart and Jessica Simpson.
Famous people and celebrities around the world are wearing 100% cotton clothes for the same reason the majority of the world wears them. They just feel better next to our skin. 100% cotton is a durable, breathable fabric that is the preference of the famous and common man alike. There is no other fabric that has its high level of comfort when wearing at any temperature or climate.