Slip into a Kaftan Cotton Dress!
Posted by Douglas Gray on 13th May 2019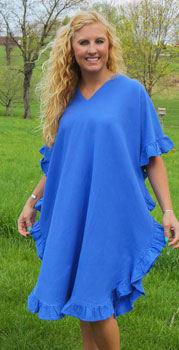 What is a Kaftan dress? A kaftan is a fluid fluffy comfort garment, usually with long loose sleeves.
Fluffy, light weight and cool our Crinkle Cotton Kaftan Dress will be perfect for those warm summer days. I love wearing this dress out on the lake. It makes a great cover up, it's easy to slip over my swimming suit. When I'm wearing my kaftan dress it reminds me of those fun summer days with my son Noah. If you are looking for a great summer dress this is it. I wore this to a family reunion and all my family and friends loved the dress. Everyone complimented me and asked where I bought it. One size fits most which is great, especially if you are buying as a gift!
This kaftan dress has 2" ruffles everywhere, carefree crinkle cotton and an open v-neck. The v-neck is a great feature for me because I love showing off my favorite necklaces. And with so many dress colors available, I'm able to show off even more of my favorite accessories by coordinating my jewelry, flip flops and hats with my favorite kaftan dresses. Another thing I love about this dress is it is so comfortable that I am able to wear it as a robe or nightgown when it's time for bed. Its soft and lightweight fabric also makes for a great nights sleep!
Whether you use it as a sassy cover up, or as a fun summer dress. You will love this breezy fun dress for those memorable summer days!
Originally published 6-26-2015. Revised 5-13-2019