Cotton makes the best Clothing
Posted by Douglas Gray on 3rd Sep 2014
Many people feel that cotton makes the best clothing because of its characteristics. This includes the soft fluffiness all who wears this fabric feel next to their skin. This is a natural effect of spinning cotton into threads. The cotton itself is short enough for the ends to stray from the tight cord it was wound and helps to create a buffer zone that allows for the exterior temperature to be averted by the wearer. It is why you can wear long johns made of 100% cotton in both the summer and winter months.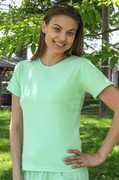 100% cotton clothes are very easy to care by means of washing them. This can be done in either hot or cold water. There are a good number of people that purposely wash their blue jeans in hot water so they will shrink just a little.
This makes it possible to wear skin tight jeans to help accent the part of their body they desire. This tightness does not hinder the wearer in terms of motion or the circulation of their blood and only lasts for a short period of time before the comfort level returns. The more a person moves, the more the jeans adjust to a point.

The more an item of clothing is washed, the more the dye fades from it. With cotton cloths, especially blue jeans, this is a common occurrence but there are many ways you can minimize this if you desire. While hand washing might be the best, cold water washings comes in a close second best. If your washer has a gentle cycle, that should also be used. This cleaning method reduces the amount of dye bleed and helps to keep your 100% cotton cloths looking newer longer.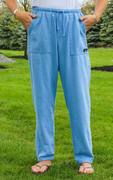 If you feel the need too, your cotton cloths can be redyed easily. Cotton fibers absorb dyes readily and can be done in just an afternoon. By just soaking the cotton item in a tub of dye, the cotton will do the rest. One word of caution, the very first washing of this article of clothing should be done alone with no other cloths in the washer. It is the first washing that has the greatest amount of dye bleeding. Remember the clothes have to be 100% cotton. The cotton blends that are currently on the market react differently and dyeing those articles of clothing should not be attempted.

There is no other type of clothing material better than 100% all cotton. This is a natural fiber that is soft to wear and easy to care for. As for the synthetic material, who really wants to wear man made materials on their skin? Yes synthetic materials made into clothing starts out as oil before it is polymerized and spun into threads. That does not even sound comfortable and next to your skin. So when a choice is available choose cotton clothing first.