Cotton clothes make a comeback in America
100% cotton clothes are making a comeback in America. This is attributed to the positive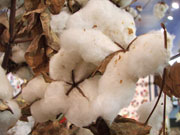 characteristics of this all natural clothing. For many, the leading reason is the significant increase in the level of comfort this fabric provides the person that is wearing it.
The types of different fabrics that can be woven from cotton include many different kinds. The most known in the world is Dimity. This is a strong twilled fabric that is used mainly in the production of pants or slacks for men, women and children. The popularity of this fabric weave is accredited to the makers of blue jeans. The popularity of this type of fabric and the clothes made from it, one of the most valued characteristic that it has is it's durability. Today this material is made into working, casual, designer and dress cloths to wear.
Light weight summer clothing is made from the Duck weave. It is durable while still being lightweight and allows the skin of the wearer to breathe.
Flannel is another very well known and popular weave made from 100% cotton. The actual weave can be either plain or twill. It will also have a slight nap on one or both sides of the garment. Most Americans know this fabric in a wide variety of plaids but there also exists plain or solid colored shirts made from this warm and very soft material. Flannelette is an offshoot of Flannel. It can be identified because it has a definite nap on one side of the garment that is made from this material.
Another form of flannel is the Outing flannel. This is best known for use in 100% cotton sleep wear that is napped on both sides. The comfort of this material is widely appreciated by those that love to sleep in maximum comfort.
A cotton weave that is very popular in dress clothes is the Velveteen. This fabric has a small pile of cotton on one side that closely resembles velvet, but is 100% soft durable cotton.
Cotton fabric can be cut and shaped into any style and type of clothing available today on the global market place. It is inexpensive to make and use. Cotton also accepts dye & pigments readily so there is no color or shade not made for it today.
Cotton has been used in the construction of clothes to cover the human body for over 7,000 years. 100% cotton clothes do have to be cared for and require a longer time to dry, but their softness next to the skin is a comfort level that has made this fabric endure the test of time.
No matter what you want from your clothes, cotton can provide it. It is soft, durable and helps keep the wearer warm or cool, depending on the atmospheric condition they are worn in.