Now in Pennsylvania - Meet Patty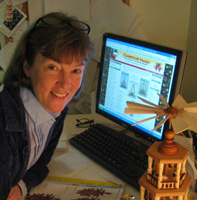 We conduct our Business primarily on ONLINE and are located in rural Pennsylvania in the midst of Amish and Mennonite farms. We are having a great time serving an ever-increasing number of happy clients, eager to have fine MADE IN AMERICA cotton clothes. Our son Austin has joined in on the fun by helping us manage everything while our daughter Emily helps create our monthly Email Bulletins. We're glad you're visiting us at "Cotton Mill".

If you want to reach us by phone, just call us at (717) 889-2066. Our office hours vary, so don't hesitate to leave a message. We'll get to you!
Cotton for Easy Wear, Easy Care!

Without question, the best features of our 100% cotton clothing are how they feel when you're wearing them and how easy they are to care for. All of our quality cottons are travel-friendly and preshrunk, some are organic. Most colors will not fade due to repeated washings, though some darker colors may mellow over time with exposure to sunlight and detergents and hot dryers.
We carry many wonderful lines of cotton shirts, cotton pants, and cotton shorts.

Because our fabrics are 100% cotton and not a poly/cotton blend, our gentle fleece lining is part of the fabric and will not ball up or "pill." In fact, our clothes actually become more comfortable with each passing wash and wear cycle! See more on our cotton sizing and care page.

For additional styles, colors, and special sizes, you may call us at 717-889-2066
A Snippet of History, Our Mission, and Our Guarantee
Our personable little shop was BORN IN 1992 when Ed Reiman, our founder, manifested a vision with fine cotton clothing by Wek. He started out with a couple of shelves and some hangers to hold a few of his favorites to share with the people in his life. Word spread, and comfort-seeking folks soon discovered "The Oregon Cotton Mill" in its hole-in-the-wall basement location.

In 2001 Cotton Mill became a A FAMILY BUSINESS:
Norma McKenzie found that her part-time job at Oregon Cotton Mill developed into a full time love, and she
just couldn't seem to get enough or stay away, so she became the new owner and worked with Kelly and Zig her daughters to share and spread the word about these wonderful clothes.
Now, twenty four years later, the "little basement shop" has moved to Pennsylvania, and is going strong as purely an ONLINE business located just west of Gettysburg. These days, who wouldn't enjoy the ease and convenience of shopping on-line? Patty, Emily, Austin and Jeff Silla are more
committed
than ever

in providing the personal service and quality clothing you'd be hard pressed to find

any

where else! MADE IN USA and CANADA is what we at Cotton Mill believe in - - and 100% Cotton and Organic Cotton is what we live in!